Espresso on the go is a fully mobile, self-contained espresso bar catering to the people of Perth, Western Australia.
- Maher is a lean mean coffee making machine -
I challenge you to make 100 cups an hour!
We serve the highest quality espresso coffees, hot chocolates, teas, iced frappes and fresh juices, as well as delicious home-style muffins, cookies and other cafe treats. Our impressive mobile coffee van has been designed and custom built to the highest standards, meeting all health and safety requirements. It comes equipped with its own generator and water supply so it is fully self-sufficient and ready to go anywhere! Maher Fleyfel, the owner-operator of espresso on the go is an experienced and award-winning barista. He has a passion for coffee and is highly skilled in the art and science of coffee-making. Not only that, he is committed to providing an exceptional standard of service to his customers.
You will be impressed!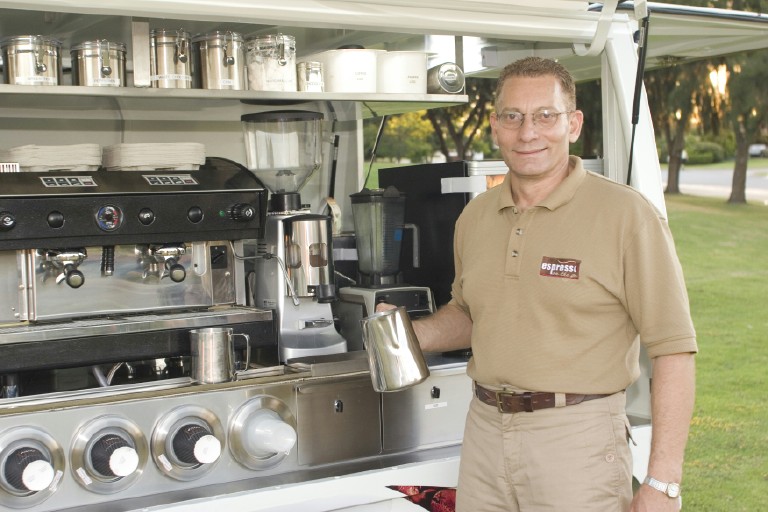 Our experienced, award winning barista Maher Fleyfel can make 100 coffee an hour, meaning he will hand deliver your coffee to your desk quicker with a superior and professional service and a smile fill your veins with warmth.
Reviews
Read what our happy customers have to say!
Neil and Carla

Tom Bottrell – Chief Executive Officer – Swan Districts Football Club

Simone McMahon – Organ Donation and Transplant Foundation of WA

Janet McGinty – Customer Service Team Officer – Piney Lakes Environmental Education Centre

Meisha Stirling – Willetton Senior High School

Tracy Achemedei – Mount Pleasant Baptist Church

Rhett Brown – Executive Property

Paul Nicholls – Auskick Coordinator – Canning Vale Junior Football Club

Dianne Moran – Westside Wolves Minkey Co-ordinator

Hannah Katarski – City of Melville Community Development Officer – Arts